The Reading List started in Safari 5.1 for Snow Leopard users, and it allows you to quickly save articles to a list, so that you can easily read them later. Also they clear out as soon as they are opened to avoid the hassle of having to go to your bookmarks menu and delete a specific bookmark once you are done.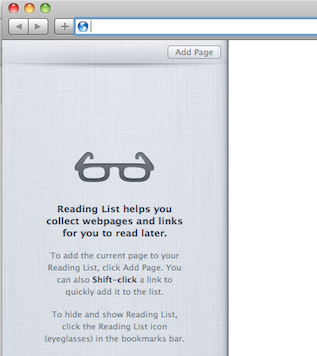 With the introduction of iCloud you can have your Reading List match across all of your Apple devices running Safari as long as you have an internet connection. For instance, if you are out somewhere with only your iPhone browsing the web, it is nice being able to access something you want to read at a later time on your Mac at home.
The minimum requirements for iCloud and the Reading List to match across your OS X and iOS devices is that you must be running at least OS X Lion 10.7 with an iCloud account, and your iOS devices must be running at least iOS 5. There is no word yet if Apple will make this feature compatible with earlier versions of OS X or iOS.
To make the Reading List match your computer to your phone, simply sign in to your iCloud account from your iPhone running iOS 5 or later and you should have your Reading list from your iCloud enabled Mac show up right away. If you haven't set up iCloud yet, you can do so from System Preferences under Internet & Wireless on your Mac.