When you are in
Mission Control
(
OS X Lion
or later), and you have several windows open in a particular program or several (as I often do), and you want to view more of the windows overlapping each other, if you have access to a trackpad on your laptop or desktop you can do so very easily.
Just move your cursor over the group of windows and use your thumb and three fingers in an outward motion to activate the gesture. You can also reverse this process to bring the windows back. This might not show you everything in the windows, but it can let you have a better look.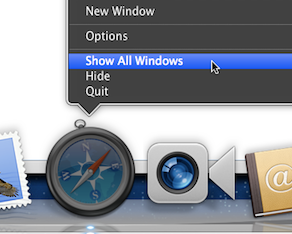 If that is not enough, and you want to view your application windows another way, you can go to
System Preferences
, and go to
Desktop & Screen Saver
, then choose
Hot Corners
. From a dropdown menu you can choose
Application Windows
. Now when you activate this corner with your cursor you will automatically see most if not all of your windows (depending on how many you have open) and not have the issue of your view being obscured by overlap. Alternately, you can choose the option of left clicking the application icon in the
Dock
and selecting
Show All Windows
to achieve the same result.