You can use this little Dashboard Widget called
Radar In Motion
which actively pulls the latest Radar information from Weather.com or the NOAA, and displays the Radar images in various ways every time you look in your Dashboard. The Widget inclues a fair amount of options for displaying the latest Radar information.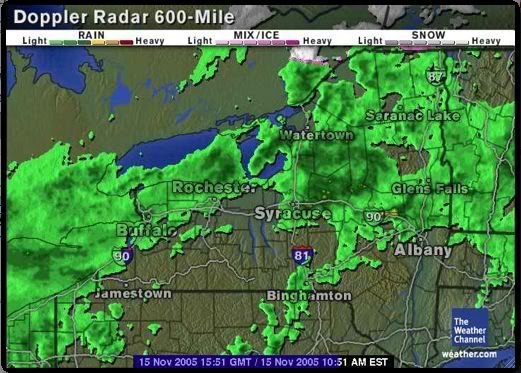 You have the option of viewing the latest images by city or zip code, along with National Radar and National Satellite images. This latest version allows for the ability to search maps by 3-letter Airport codes. You also have the ability to adjust the size of the window by double-clicking on the window itself.
This Widget is available for download at the
Official Website
. It requires Mac OS 10.4 or later.
Note: Due to a change on the Weather Channel website this widget no longer shows radar information. The developer is working to get this back or find another radar feed.